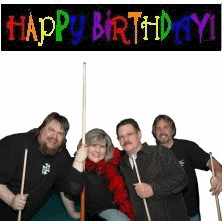 Happy Birthday from Simple Groove!!

We'd love for you to come and celebrate your birthday with us - please check our Gig Calendar (below) and come out to our next gig. Come up to any of us and let us know it's your birthday - we will play you a song and give you a present!!

NOTE
If you are wondering why we are wishing you a happy birthday early, it's so you have time to look at our schedule and come celebrate it with us!

If you'd like a gentle reminder about our local upcoming events, return to our MySpace page and send me a message, including your email address, and I'll make sure you get our local announcements!

Happy Birthday again!!